Dalbergia debacle - CITES Updates 2017
Monday, 12 December 2016 | Admin
Dalbergia debacle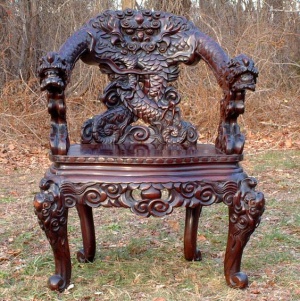 In an old newsletter, one that can be dug up and re-read if you feel inclined, I looked at how Gibson guitars, one of the world's most prestigious manufacturers, had fallen foul of US law regarding the import of Rosewood from Madagascar.
It was my intention in that newsletter to bring to attention the Lacey act, a US law introduced to identify and punish imports of illegally logged timber, and the main reason for all that bother in Madagascar, uncontrolled and illegal sales to Chinese buyers.
There has been for the best part of a decade or more, a fashion in China for reproduction furniture made of rosewood. We had a similar reproduction furniture fashion here in the 1980's. Remember all that yew veneered furniture with the Trumpesque orange varnish? The demand for yew veneer at that time left our forests unusually devoid of yew trees. The Chinese fashion for rosewood furniture is on a completely different scale.
The furniture being reproduced in China is based on the heavily carved and ornate furniture that filled the palaces of the Emperor and the houses of the Chinese elite. The present day demand is from the upwardly mobile Chinese middle class and is an expression of status and success, the equivalent of a banker's Bentley, but the demand is from 50 or 60 million very wealthy people rather than the few thousand it might have been in the Emperor's day.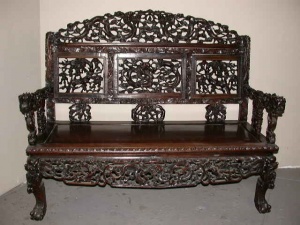 Being heavily carved this furniture can only be made from solid wood, each piece uses a much larger volume of wood than the rubbish repro we aspired to in the 80's. The best of the original furniture was made from Zitan wood, less fantastic furniture was made from a number of dense rosewoods from the region we used to call Indo China. None of these timbers were abundant when this furniture was being made and that is true in the present day for almost all the species considered desirable for the reproductions. In the last decade unprecedented levels of demand from China for these species has created huge supply problems very quickly.
It is possible to follow Chinese rosewood furniture trade and the resultant CITES reactions chronologically.
Zitan wood – Pterocarpus santalinus from India CITES II listed 16th February 1995.
Madagascar rosewood– about 50 dalbergias from Madagascar CITES II listed 12th June 2013.
Thai rosewood – Dalbergia cochinchinensis from Thailand CITES II listed 12th June 2013.
Cocobolo - Dalbergia retusa and 2 other Dalbergia species from Mexico CITES II listed 12th June 2013.
Nicaraguan cocobolo – Dalbergia tucarensis and 3 other Dalbergia species from Central America listed 5th Febuary 2015.
All remaining Dalbergias, well over 100 worldwide, will be CITES II listed 2nd January 2017.
Also CITES II listed at the same CITES meeting were Bubinga – Guibourtia demeussi, Guiboutia pellegriniana and Guiboutia tessmannii and a dense variety of Padauk – Pterocarpus erinaceous. These species had also come under pressure from the Chinese furniture trade and were considered good for the same purposes.
You can look in detail at the new listings by searching 'CITES notification 057/2016', internet searches otherwise do not yield much information as yet.
End users up to now have only had to worry about Brazilian rosewood – Dalbergia nigra. This has appendix I CITES listing and items made from it are only allowed for export with adequate proof that the wood had been obtained 'pre convention' i.e. 1992.
Appendix II listings had typically covered trade in logs, sawn wood, veneer sheets and plywood. The new listings of all Dalbergias, the 3 Guibourtias and the Pterocarpus species also now cover the finished articles made from them.
Articles that include one or more of the new appendix II listed species that are under 10kg in weight and are the personal property of the person carrying them are not articles of trade and are therefore not subject to CITES regulation. These articles can be freely taken out of the EU e.g. a musician carrying a musical instrument from concert to concert.
From 2nd January 2017 if you wish to export articles that are partly or fully made from these species then the export will need to be accompanied by a CITES re-export permit. It is possible that the importer/customer of the article may need to apply for a CITES import permit from their own authorities and this should be investigated before the export happens.
It is illegal to let the export happen before export and import permits have been issued. There are only a few exceptional circumstances where the regulation allows a retrospective permit to be approved. Customs will seize goods and it is extremely unlikely you will get them back. It is vital for the exporter and customer to be patient and to do the paperwork properly.
It is crucial that the exporter presents the permit to customs for endorsement on exit from the EU. If this does not happen then customs at the importing country may seize the goods or send them back to the UK where they will be seized because they are illegal. It is extremely unlikely you will get them back.
Cites re export licences are easy to apply for. The UK authority is APHA, their phone number is 0117 3723700 and the email is wildlife.licensing@apha.gsi.gov.uk A CITES re export licence costs £59.00 and is usable for one export only. If there is more than one specie in the article to be licensed a 'composite' CITES licence is issued at the same price.
Articles fully or partly made from these species, where the timber has been procured before the CITES listing 2nd January 2017, can be licensed for export as 'pre convention' timber. It will be necessary to send documentary proof that the wood was purchased before this date, i.e. the original invoice for the wood, with the application form and payment.
Pre-convention timber may also be licensed if procured after 2nd January 2017. The application should be accompanied by the invoice that covers the purchase. The trader that issued the invoice will have included the pre-convention status of the timber and will have invoices in his own files to prove it.
Ultimately there will be timber on the market that has been imported after 2nd January 2017. These imports will be CITES regulated and will have a CITES licence number associated with them. The CITES number of that import will be included on the supplier's invoice and should be sent in with the application form and payment when a CITES re export licence is applied for.
The trader will also need to be diligent about including specie, country of origin and volume when invoicing these CITES listed species and also have invoices in his own files that trace back to the original import.
Be extra careful with the courier service you use to send the item abroad. I have heard of several instances where the courier has lost or ignored CITES documents and the export has snarled up and the product has been lost. It is important to make sure that you are confident that the courier knows how to fulfil the process.
The easy solution of course is to not accept orders for items that include CITES II listed timbers that are destined for export out of the EU. We do not accept orders for these species from our timber catalogue for export out of the EU for the same reasons of practicality. Orders for domestic or EU consumption need not be so restrained.
Post script
I have been advised that in Germany the process is very different. This may also be true with other countries. The information I have given in this newsletter is true for UK based craftsmen only.
In Germany it is necessary for traders and craftsmen to do a stocktake of the timber they have and to send it to the German authorities to be on record before the listing takes place on the 2nd January 2017.
This of course has caused a wave of panic among some UK craftsmen.
I asked the people at APHA directly if the same applied here and got this answer: 'This has been discussed with our policy colleagues in Defra and at this time the UK has no plans to request the registration of stockpiles of timber. However if this changes in the future we will let customers know'.
Post post script - 21/12/2016
I have not been the only person that felt it important to investigate the implications of the new CITES listings. A number of us have been sharing information as we got it. There are a couple of things to add to the last newsletter that are of immediate importance.
The CITES listing of the Dalbergia genus, the 3 species of Guibourtia and the single species of Pterocarpus will be on 2nd January 2017. The EU will not have made it law until about February or March 2017. The appropriate national authorities in the EU will not be able to issue re export permits until it becomes EU law.
Exports post 2nd Jan without permits will almost certainly be considered illegal by the importing country. The advice is to be patient and not to try to export anything until the EU law is in place.
A lot of craftsmen have found themselves in the position of having owned pre convention wood for such a long time that the original invoicing has been lost. The advice from the APHA is:
"Dated photographic evidence can be used as well as signed statements regarding acquisition dates and historical information known about the instruments, e.g. how long you have owned them for, manufacture dates, serial numbers etc.".
So the thing to do with this kind of problem is to create a detailed photographic record of the stock with the annoying date feature on your camera switched on. You should then be able to use those photos when applying for a CITES re export licence as evidence that it is pre convention.
That's quite helpful of them but it does require immediate action.
However - the photographic record must be done before 2nd January 2017!
Update - 04/01/2017
I will keep you updated here in News section with any notable developments on this new CITES listing.
Robert Smith.